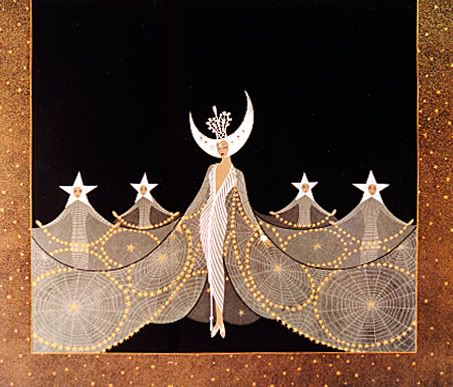 Good Evening, the lady above is the Queen of The Night a painting by Erte and I put her up there because she is on the cover of my new diary and I thought she was lovely. Stuart always puts a diary in my Christmas stocking every year and this is the 2009 edition.
Today was a much nicer day than it has been since Monday cold bright and sunny so after our usual coffee at our usual coffee shop we decided to go for a walk, just local but the air was cool and crisp just what you need after all the lethargy of the last few days. We headed to the to the side of the loch today to walk a bit more of the new path around our loch. The first picture below is of the Lock Keepers house where the sluice gates are.
As you can see the water flows right under the building. Today there was a lot of water being run off from the loch. It is these sluices that regulate the height of the water in the loch, the next picture is one of carved seats that are placed around the path it has a lovely inscription on it ..

WHERE ONCE SARGASSO EELS CAME BACK TO BREED,
SLUICE GATES CLOSE TO STEM THE WATER SPEED.
We really enjoyed our walk it blew away all the cobwebs and made us feel much more alert and not so tired, I find when I am in for a few days I get so tired and feel so cooped up I just have to get out. Never mind another week and all will be back to normal thank goodness. Off now to watch Foyle's War I know it's a repeat but it is a favourite of ours so till next time Love. Joan.